Published Here Too!
Two weeks ago, a box containing the BH-905i arrived at my doorstep. Not being a fan of bluetooth headsets at the time, i wasn't excited or anything. I'm not a fan of bluetooth headphones or headphones, for that matter because of one thing. Battery. I hate things running batteries because well, they run out. Also, bulkiness is an issue for a commuter like me. Here were some photos of what it looks like and what came in the package.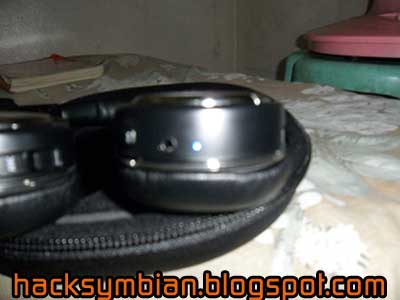 As you can see, I was expecting a box, and here it comes, in a rounded leather enclosure that makes you feel like a little kid that's about to get a real nice surprise, and boy did i get one. It comes with the BH-905i Bluetooth headset itself, a lot of adapters, and audio cable and the charger. So having never operated a Bluetooth Headset myself, I figured it was best to read the 1 page guide on how to connect it to my Nokia 5800, pretty simple eh. Of course, to do other things like reset it or activate the Bass Booster from the headset, i had to read the other 18 pages. Here's a short snippet on how easy and fast it was to connect the two devices together.
Once I got it set up, I took it everyday with me for two weeks, going to work and going out, and might I say, that made me say things i would have never had about bluetooth headsets altogether. The first few days seemed like much of introduction to the many beautiful features of this pair of ear accessories. I eventually became familiarized within a week.
The first thing I loved about this is it's elegance factor. Metal, and leather so nicely knit together that it feels like a whole rather than parts put together.
The next thing is an unprecedented battery life. I only had to charge once every two days with extremely heavy usage and testing. I've never tested other headsets before but that's pretty long for me. Also, consider that it only takes more or less 2 hours to charge when completely empty.
Then there's Active Noise Cancellation. Now this is something that will awe most people like me, who are not audiophiles or are not well versed with high-end headsets. You can read more about the technology in the user guide, located
here
. This thing is really amazing that once you turn it on, even without music playing, will actually cancel out the noise using opposite sound waves. That's amazing for me!
How about the sound quality you ask? Amazing I say. You'll be able to hear great detail with good enough bass. The Active Noise Cancellation really helps in this aspect as the output volume isn't the loudest I've heard, but it's quite loud.
And lastly, for obvious reasons, this headset is great since it can make your life a bit easier. While doing something like typing, you can easily change the song, increase the volume, pause, stop the music that's currently playing; answering calls, so on and so forth.